Herbal Weight Loss Supplements
Diet and exercise cannot do wonders overnight, and they need regularity and time to show results. Herbal weight loss supplements help people lose extra body fat fast and gain a slimmer and fitter body. These pills compound the effects of exercise and bring faster results.
Natural Fat Burner Supplements to Lose Weight (Increase Energy Level)
Why Do You Need Weight Loss Supplements?
Some people gain fat fast while some at a slow pace, but once the balance between calories gained and calories burnt is off, the body accumulates fat and gains weight.
When the body comes into the mode of accumulating fat, it collects it at a faster rate. It can produce bags of flesh around the waist, abdomen, thigh, cellulite, double chin, etc.
Diet, lifestyle, health conditions, medication, genetics, and choice of foods play a role in causing obesity, and sometimes a mix of these is the cause of the problem.
Natural weight loss supplements are so varied in their benefits that they can handle the entire set of causes and provide excellent results with minimum effort.
InstaSlim Capsules Ingredients
InstaSlim capsules combine 16 potent herbs that collectively work as the best natural weight loss supplements. The perfect blend of herbs helps people control excessive calorie intake by improving digestion and regulating eating patterns, leading to a healthy weight loss.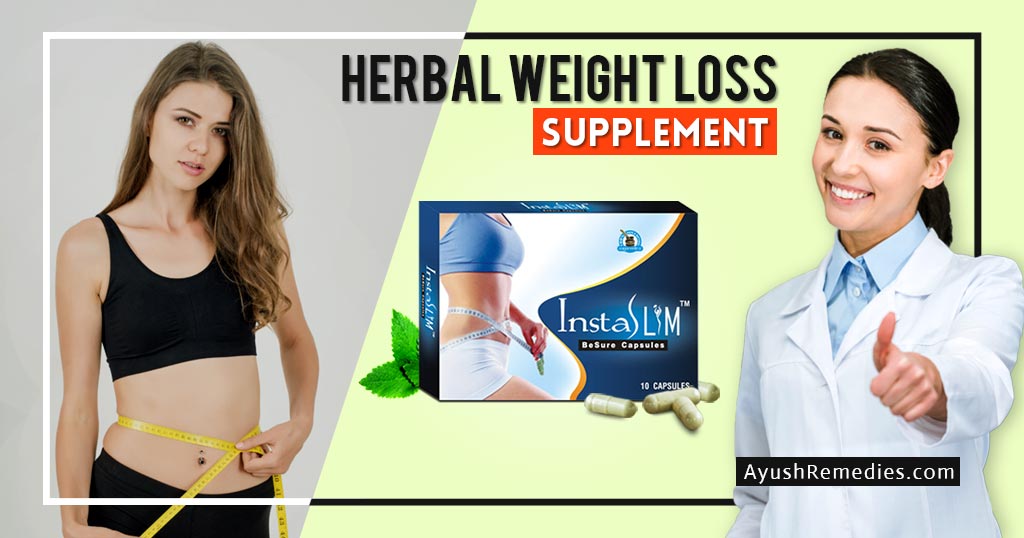 Composition
Each Capsule Contains:
| | |
| --- | --- |
| Argyreia Speciosa (Samudra Shosh) | 20 mg. |
| Piper Chaba (Chavya) | 25 mg. |
| Piper Nigrum (Kali Mirch) | 25 mg. |
| Zingiber Officinale (Sonth) | 25 mg. |
| Gardenia Gummifera (Dikamari) | 25 mg. |
| Alhagi Camelorum (Jawasa) | 25 mg. |
| Coleus Aromaticus (Pashanabheda) | 25 mg. |
| Terminalia Arjuna (Arjun) | 25 mg. |
| Embelia Ribes (Vaividang) | 25 mg. |
| Terminalia Chebula (Haritaki) | 30 mg. |
| Acacia Arabica (Babool) | 30 mg. |
| Terminalia Bellirica (Bahera) | 30 mg. |
| Piper Longum (Pipal) | 35 mg. |
| Plumbago Zeylanica (Chitrak) | 35 mg. |
| Carum Carvi (Jeera) | 50 mg. |
| Emblica Officinalis (Amla) | 20 mg. |
Frequently Asked Questions
What are the causes of obesity?
Genetics, overeating, eating between meals, too many simple carbs in diet, medicines, health conditions, inactivity, poor digestion, and psychological factors are common causes of obesity. All these factors create an imbalance between calorie intake and calorie burn.
Intake of simple carbs, even in the presence of higher calorie burn, can raise the weight as these produce dead calories that the body cannot utilize for energy production and deposit as fat.
What are the risk factors of being overweight or obese?
There are a host of health issues that can arise due to obesity. Some of the major ones are listed below
Heart problems and increased risk of high blood pressure and diabetes
Increased chances of heart attack, stones in kidneys and gallbladder, and stroke
Breathing problems, sleep apnea, disturbed sleep
Depression, panic attacks, and lethargy
Joint problems and the rate of hip and knee replacement are higher in overweight people
Increased chances of various types of cancers
The early arrival of osteoarthritis and increased risk of gout attacks
Chronic metabolic disorders
Problems related to the reproductive system
What are the best natural weight loss supplements?
Without any doubt, InstaSlim capsules are highly effective herbal supplements for weight loss.
These pills increase the effects of exercise, control appetite, improve digestion, and promote a higher rate of fat and protein metabolism to provide effective, fast, and healthy weight loss.
These enhance the body's agility, strength, and endurance and improve the quality of one's life. They make skin smooth and reduce cellulite, double chin, skin folds, and lines.
These are safe supplements and can be used for a prolonged duration. One can maintain the effects of these pills for a more extended period in life by simply leading an active lifestyle and eating a nutritious diet.
What is InstaSlim Capsule?
InstaSlim is an herbal formula to manage a healthy weight. These pills work for men and women who gain weight for various reasons.
InstaSlim, by purely natural effects, enhances the body's mechanism to lose excess fat and gain muscle mass and bone density.
These pills help control frequent or excessive hunger, increase the absorption rate of nutrients in the body, boost immunity, and increase energy production to provide a slimmer, healthier, and fitter body.
What are the benefits of using InstaSlim capsules?
Apart from weight loss, there are many benefits that InstaSlim capsules can provide. Some of the significant benefits of these herbal weight loss supplements are
Improved digestion and healthy excretion of waste matter
Growth of muscle mass and bone density
Healthy heart, clear blood vessels, and strong joints
Lower toxicity and higher immunity
Better circulatory system and even blood flow
Improved energy and stamina
Charming, tighter, and smoother skin
How to take InstaSlim capsules?
Consume 1 or 2 InstaSlim capsules twice every day after breakfast and dinner with water. Be consistent with the course to obtain satisfactory results.
Exercise regularly, stay active, and sleep for a sufficient duration. It will accelerate your efforts in your weight loss journey.
Avoid high fat, high carb, and sugary foods. Strictly avoid junk and processed foods, mainly which come with preservatives.
Limit or minimize intake of alcohol, tea, coffee, beverages, and other caffeinated or carbonated drinks.
Is this supplement safe to use?
Herbs, since time immemorial, have been used as natural remedies for treating various disorders and bodily malfunctions. These have a proven track record of being safe and free of side effects.
Herbs in these supplements as ingredients make them entirely safe for all. These can be used even as a preventive remedy to avoid weight gain.
How do InstaSlim capsules work?
These weight loss detox supplements suppress excessive calorie intake, strengthen the digestive system, regulate excretion, and promote a faster fat and protein metabolism rate.
These appetite suppressant pills convert deposited fat into lean muscles and use fat made available through diet for energy production.
They bring down weight healthy and provide a slimmer but stronger and fitter body in a short duration of use.
How long do InstaSlim capsules take to show effect?
If you exercise regularly, results can be faster. Still, if you are not exercising or lead an inactive lifestyle, results may take a little longer, but be rest assured you will gain positive results.
Use InstaSlim capsules regularly for at least 3 to 4 months to obtain maximum benefits of these herbal weight loss supplements.
Do you ship InstaSlim discreetly?
We do not display any details about the product over the packet containing the parcel.
We pack it plain with address only, so that information about the product remains secret. We also ensure that only the right person gets the delivery.
Here's What Our Customers Say About InstaSlim