Natural Brain Health supplements
Like any other organ of the body, the brain also needs nutrition and support. A healthy brain resides in a healthy body. Regular nutrition and protection are needed to maintain and improve one's intellect and mental sharpness.
How To Improve Memory Power, Concentration, Mental Clarity, Sharpness
Why Do You Need Brain Health Supplements?
Many factors like age, poor health, physical disorders, medication, and poor diet and lifestyle constantly deplete mental abilities.
The effects of these factors reduce a person's focus, memory, and analyzing power to make him confused, forgetful, and indecisive.
Gradually these malfunctions also cause irritability, impatience, mood swings, and depression in a person.
Natural brain health supplements increase memory and concentration by shielding the ill effects of these factors and rejuvenating the brain's internal mechanism to invigorate its abilities.
Brahmpushpi Capsules Ingredients
Brahmpushpi capsules combine 16 potent herbs and nutrients that collectively work as the best natural memory booster supplements. The perfect combination of herbs makes these pills highly effective in improving brain functions and increasing focus.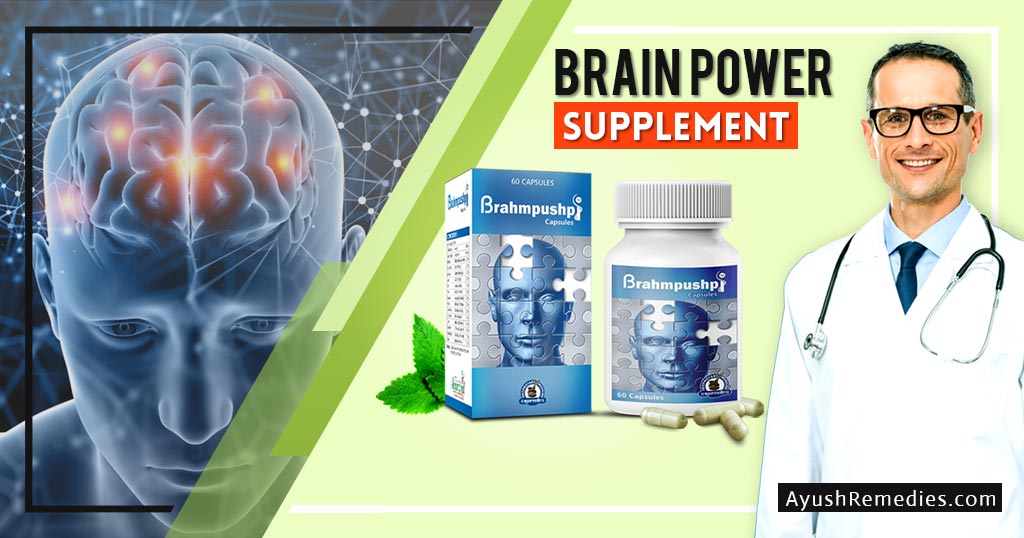 Composition
Each Capsule Contains:
| | |
| --- | --- |
| Aurum (Swarna Bhasma) | 0.1 mg. |
| Argentum (Rajat Bhasma) | 0.4 mg. |
| Nardostachys Jatamansi (Jatamansi) | 20 mg. |
| Orchis Mascula (Salam Mishri) | 20 mg. |
| Celastrus Paniculatus (Jyotishmati) | 30 mg. |
| Zizyphus Vulgaris (Unab) | 20 mg. |
| Acorus Calamus (Buch) | 30 mg. |
| Lepidium Sativum (Asalo) | 20 mg. |
| Asparagus Racemosus (Shatavari) | 20 mg. |
| Bauhinia Tomentosa (Kachnar) | 20 mg. |
| Sphaeranthus Indicus (Gorakhmundi) | 25 mg. |
| Brunella Vulgaris (Ustekhadus) | 30 mg. |
| Hibiscus Rosa Sinensis (Gurhal) | 35 mg. |
| Tricholepsis Claberrima (Brahmadandi) | 35 mg. |
| Convolvulus Pluricaulis (Shankhpushpi) | 70 mg. |
| Bacopa Monnieri (Brahmi) | 70 mg. |
Frequently Asked Questions
What is brainpower?
Brain memorizes, analyzes, decides, and perceives. The brain's power lies in focus. The sharper brain's focus is, the brighter its abilities to memorize, analyze and decide.
Focus even plays a crucial role in determining a person's emotional status. Apart from focus, the brain's overall health is also vital, and it keeps the brain's real power thriving and vibrant.
What are the symptoms of poor memory?
Poor memory presents itself in a few different ways.
People tend to forget simple things, like forgetting car keys regularly, birthdays, and names of neighbors or security guards.
Another symptom of weak memory, which is more common in students, is hard to recall things they have memorized or slow recall.
The third type of symptom is more severe, leaving people with completely washed out memory. They may forget anything and forget in a way as if it never happened. Such condition is usually associated with people suffering from grave disorders like Alzheimer's.
Focus is a lack of distraction. The mind can resist un-useful information like sound coming from far, the sound of clamor, or people or activities around a person that are meaningless to him.
Avoiding distractions and recording faces, things, activities, sounds, etc., which may be of some use, or the ability to concentrate on the job at hand by avoiding distractions is the focus.
Focus and memory go hand in hand. If one's mind is getting distracted, memory is bound to suffer, and in many cases, symptoms of weak memory arise due to poor focus of mind.
What are the best natural supplements to increase brain power and focus?
Brahmpushpi capsules are the best supplements to increase brain power and memory. These are potent pills to increase focus and sharpen the analytical abilities of the brain.
These pills protect and nourish the brain, correct malfunctions, and initiate processes that enhance a person's mental abilities. These are supplements for individuals of all ages and leading different lifestyles.
People from different walks of life have varying lifestyles like aging individuals, students, professionals, teachers, homemakers, etc. They lead different lifestyles and have different causes of poor brain functions.
They can take these pills, which help them out of trouble. Brahmpushpi capsules work for all, as these enhance overall brain power and provide a solution to the problems occurring due to varied reasons.
What is Brahmpushpi Capsule?
Brahmpushpi capsule is one answer to weak memory, poor focus, and slow brain functions. It is a perfect answer to disorders like depression, anxiety, and stress and prevents mood swings, irritability, and nervousness.
It works for people of all age groups and from all walks of life. These pills possess ingredients that enhance brain power and protect it from stress.
These can even nullify the ill effects of some genetic disorders and the side effects of severe physical disorders like diabetes or poor nervous system.
These capsules are natural brain health supplements that improve memory and provide an alert and sharp mind which lasts for a lifetime.
What are the benefits of using Brahmpushpi capsules?
One can gain the following benefits by using these pills regularly.
Sharp memory and ability to recall faster
Excellent focus and much better concentration
Improved brain functions irrespective of age
Sharper analytical powers and ability to grasp
Ability to memorize voluminous things faster and clearly
Promote mental relaxation and enhance mental clarity and alertness
Treat depression, anxiety, mental fogginess, irritability, and lethargy
Helpful in relieving nervousness and sleeplessness
Improve nerve functions
How do Brahmpushpi capsules work?
Brahmpushpi capsules protect, nourish, and enhance the functions of the brain.
These natural brain health supplements protect brain cells and neurons from oxidative stress and damages caused by toxins, harmful hormones, free radicals, and chemicals secreted in the body and transferred to the brain through the blood.
These pills enhance the supply of nutrition and oxygen to the brain to generate brain cells and maintain an optimum number of neurons.
Herbs of these pills initiate, resurrect and boost processes in the brain which sharpen and invigorate its functions.
Are these brain enhancement pills safe to use?
Brahmpushpi capsules are purely herbal. These are made under strict processes to avoid contaminations and impurities.
The herbs used in these natural brain health supplements are purest and do not contain any synthetic material. These are safe for people of all ages and even for prolonged use.
How to use these memory booster capsules?
Just consume one or two pills with milk or water every day after breakfast and dinner. Avoid alcohol, tobacco, and drugs to gain faster results.
How long do Brahmpushpi capsules take to show effect?
Not too long, regular intake and a healthy lifestyle can bring results within 3 to 4 months.
Do you ship these brain health supplements discreetly?
Yes, the product is wrapped so that packing cannot be opened and repacked. Packing does not display about name and description of the product and is also hand-delivered to the person.
Here's What Our Customers Say About Brahmpushpi