Height Growth Supplement
A natural height growth supplement provides nutritional support to the body and helps a person gain good health and physical growth.
Long Looks Capsules Best Height Growth Pills That Can Make You Taller ✌
To promote your height growth, you need to include plenty of macronutrients and micronutrients in your diet.
During the adolescent years, the release of growth hormones in the body promotes an increase in the size and density of bones, and the body achieves height and broadness.
After the age of 20 years, the level of growth hormones begins to decline at a consistent pace. This decline causes slowness in physical growth.
After a certain age, the body does not grow but carries out repairing work.
Many people during young age are unable to achieve optimum physical growth. It can happen due to a variety of reasons.
Long Looks Capsules Ingredients
Long Looks capsule combines 10 potent herbs and nutrients that collectively work as the best height growth supplement.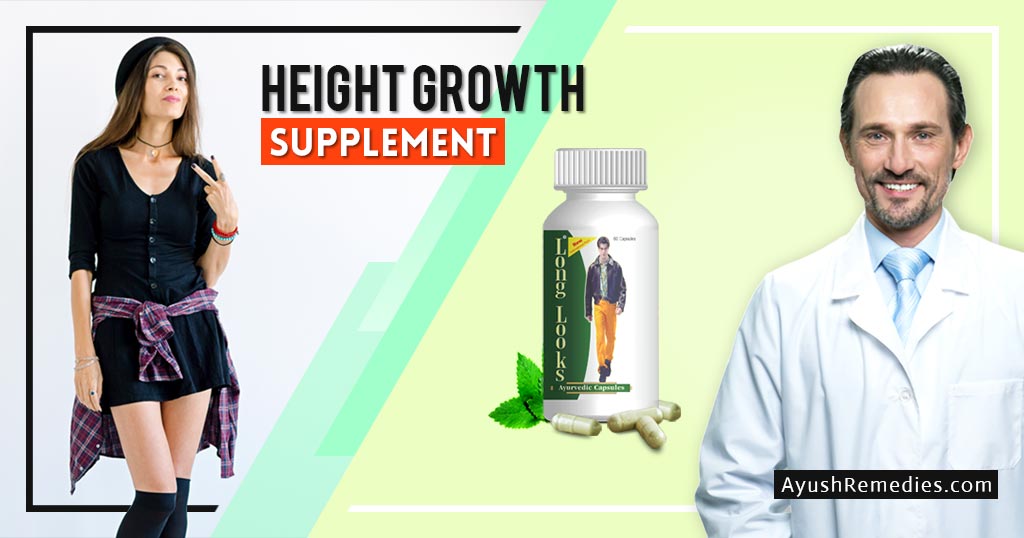 Composition
Each Capsule Contains:
| | |
| --- | --- |
| Caryophyllus Aromaticus (Long) | 10 mg. |
| Laccifer Lacca (Lac) | 15 mg. |
| Lepidium Sativum Linn (Chandrika) | 200 mg. |
| Withania Somnifera (Ashwagandha) | 45 mg. |
| Gentiana Kurroo Royle (Karu) | 10 mg. |
| Pueraria Tuberosa DC (Vidarikand) | 45 mg. |
| Acacia Arabica (Babool) | 35 mg. |
| Azadirachta Indica (Neem) | 55 mg. |
| Ephedra Gerardiana (Somlata) | 05 mg. |
| Cassia Tora Linn (Chakramarda) | 40 mg. |
Frequently Asked Questions
What are the causes of short stature?
There are quite a few causes of short stature. Some of the most common ones are listed below.
Malnutrition
Growth hormone deficiency
Hypothyroidism
Congenital heart disease
Rickets
Anemia
Juvenile rheumatoid arthritis
Brittle bone diseases
Hypogonadism
Thalassemia
Toxin exposure
Which capsule is best for height growth?
Long Looks capsules are the most reliable and effective herbal height growth supplement. The overall benefits of this herbal supplement are multiple.
You gain stronger bones and joints and better fitness. These improve the body's musculoskeletal system and provide a fitter and stronger physique.
Boys and girls can both use these without any medical prescription. You gain completely harmless results and achieve better height conveniently without much trouble.
It improves immunity and removes deficiencies to protect health.
Short stature is a source of poor confidence.
People often switch to high calcium intake and exercises to gain height. These efforts alone cannot overcome varied causes of the problem.
Due to its multiple benefits, Long Looks capsules provide reliable treatment in a short time safely and naturally.
It works even after growing age. In many cases, people have achieved as much as four to six inches growth to their stature.
If used for young children, these even overcome genetic defects and disorders which stunt growth.
Do Long Looks capsules increase height?
The effectiveness of the Long Looks capsules is entirely based on the perfect blend of potent herbs and natural nutrients that support the body's growth and development.
This natural height growth supplement contains antioxidants and natural ingredients in perfect combination.
How to use Long Looks capsules?
You do not need to follow any strict dietary or exercise regimen. Consume one or two pills after breakfast and dinner regularly.
Support these pills with a healthy and nutritious diet and lead an active and healthy lifestyle.
Are Long Looks capsules safe to use?
Yes, Long Looks capsules are safe for use by a person of any age. This herbal supplement does not contain any artificially designed substance which may cause side effects.
How do Long Looks capsules work?
Long Looks capsules remove deficiencies from the body. Scarcity of minerals and essential vitamins cause slow and lesser generation of bone tissues.
Slow bone tissue generation causes stunted growth and development of bones and leaves a person on the shorter side.
Growth hormone is responsible for causing physical growth during the adolescent years. It is at its peak during this age and begins to decline after 20 years of age consistently.
Although this hormone is secreted in an adult's body, its quantity is less to promote height.
Long Looks capsules possess herbs that support the release of growth hormone and others to promote growth in stature.
These supplements also provide a dose of super-charged antioxidants and speed-up metabolic rate.
You gain rapid bone tissue generation, faster fat metabolism, and an increased rate of energy-producing reactions.
These supplements improve immunity and keep health protected. You not only grow taller naturally but gain a stronger, fitter, and healthier body.
How long do Long Looks capsules take to show effect?
To resolve the problem of short stature, you need to keep patience. The causes of the problem are generally stubborn and need some time before getting resolved.
The severity of causes can vary the duration of results. Even age also plays its role in bringing early or delayed results.
Use these supplements for at least 3-4 months to gain maximum benefits and optimum growth in height.
Does ashwagandha increase height?
Withania Somnifera (Ashwagandha) is reckoned as one of the potent herbs in Ayurveda. It fulfills nutritional requirements in the body and supports optimum physical growth.
This herb is a vital ingredient of Long Looks capsules. It works exceptionally well when combined with other powerful herbs in this height growth supplement.
Do you ship discreetly?
We maintain your identity protected and deliver your order right to your doorstep. Your order will reach you in time in a plain packet without mentioning the product name on it.
Special Offers
Due to its purely herbal nature, you can take Long Looks capsules for the long term to gain maximum benefits. They provide vital nutrients to the body for optimum growth and improve overall health and wellbeing.
Here's What Our Customers Say About Long Looks