Prevent Semen Leakage and Dhat Syndrome
Semen leakage is involuntary ejaculation with urine or bowel movements or even due to sexual arousal. The most common forms of semen leakage are wet dreams and sperm leakage after urination.
How to Stop Semen Leakage in Urine Treatment Recover Lost Energy Fast🚽💦🤦‍♂️
How to Prevent Semen Leakage In Urine?
Semen leakage during or after urination is a common problem in men these days, and it can be caused for various reasons. Frequent occurrences of this problem can be highly debilitating.
Herbal remedies are beneficial in preventing the involuntary discharge of sperm by strengthening the ejaculatory system.
They help address all the underlying factors that may cause this problem and effectively improve male health.
NF Cure and Shilajit capsules are herbal supplements that supply the much-needed nutrients to the body, improving reproductive health and preventing spermatorrhea or uncontrolled ejaculation.
Key Ingredients of NF Cure and Shilajit Capsules
Semen leakage can cause dhat syndrome, excessive precum, wet dreams, premature ejaculation, and other dysfunctions. The potent herbs in NF Cure and Shilajit capsules effectively deal with the problem and improve male health.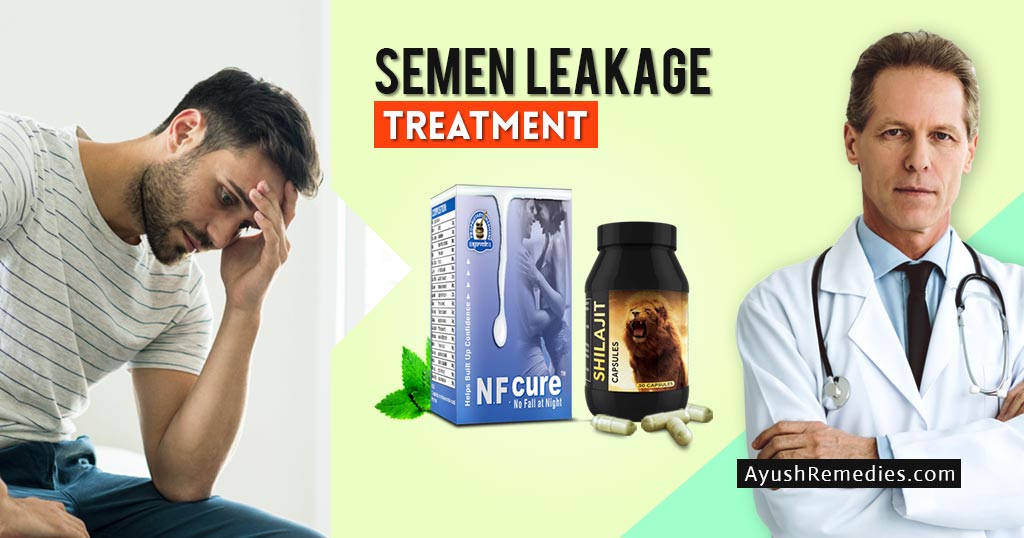 Frequently Asked Questions
What are the causes of semen leakage?
The leading cause of this problem could be the over masturbation that some males indulge in for seeking pleasure.
The hand practices done without providing rest to the body can weaken the nerves of the genital organ and leave it unable to control the secretions produced inside it.
Bowel or physical movements can also result in semen leakage. The excitement caused by erotic thoughts and dreams can also bring semen leakage in males.
Males with this problem can experience low libido, weak erection, thin semen, and burning during urination.
How do NF Cure and Shilajit work as semen leakage treatments?
The herbs in NF Cure and Shilajit capsules possess excellent healing and rejuvenating properties. They help improve male reproductive organs and prevent involuntary discharge.
They energize the parasympathetic nerves, increase testosterone secretion and cell reproduction and revitalize the male reproductive system.
The higher testosterone and cell reproduction energize the nerves and make them stronger. They increase males' vitality and prolong the well-functioning of the reproductive system.
NF Cure and Shilajit capsules also increase muscle mass and endurance. One can expect an overall improvement in health and wellbeing after taking a complete course of these herbal supplements.
Are there any known side effects of these herbal products?
NF Cure and Shilajit capsule are natural plant-based supplements; hence they do not cause any side effects in consumption for even a long time.
How fast can I expect the result?
NF Cure and Shilajit pills can provide the best results and even eliminate the problem when taken for three to four months.
How to use NF Cure and Shilajit?
Take one capsule each of NF Cure and Shilajit twice a day for three to four months to achieve good results.
The dosage can be different according to the severity of the problem faced by the male.
For extreme cases of semen leakage, it is better to take two capsules of NF Cure and one capsule of Shilajit twice every day.
These herbal supplements can provide complete riddance from the dhat syndrome when used regularly.
Here's What Our Customers Say