Herbal Erectile Dysfunction Oil
Males can have impotence due to various reasons, which vary from physical to psychological. Males don't need to have any serious cause of the problem; often, simple negligence and in-abstinences can also lead to impotence.
Best Penis Massage Oil to Treat Erectile Dysfunction Naturally
Does herbal erectile dysfunction oil help treat erection problems?
Males suffer from ED due to bad habits, long-term medication, or the presence of any disorder. Impotence occurring due to these reasons is hardest to alleviate.
King Cobra herbal erectile dysfunction oil has been designed to address all the possible causes of the problem, from mild to severe.
This oil can reverse the damages and debilities caused by even the most severe causes of the problem. This oil improves a male's potency and makes him a capable lover in bed.
King Cobra Oil Ingredients
The herbs in this oil have regenerating properties, which help make tissues bigger. The bigger tissues grow more after absorbing blood and cause bigger erections. After regular use of King Cobra oil, males can see a measurable difference in their erection size and penetrate a woman better to make her ecstatic in bed.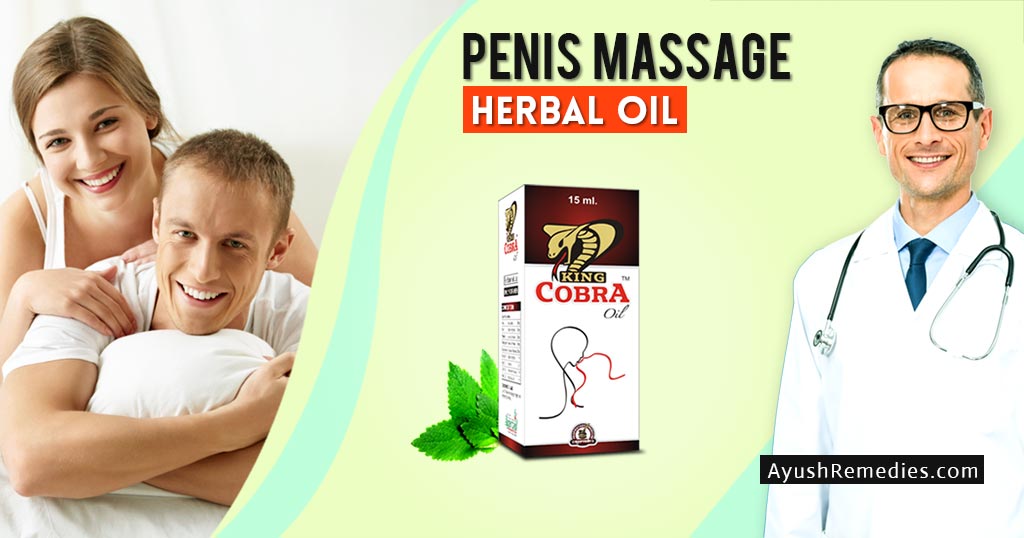 Composition
Each 10 ml contains:
| | |
| --- | --- |
| Crocus Sativus (Kesar) | 10 mg. |
| Myristica Fragrans (Javitri) | 100 mg. |
| Anacyclus Pyrethrum (Akarkara) | 100 mg. |
| Withania Somnifera (Ashwagandha) | 50 mg. |
| Barringtonia Acutangula (Samudra Phal) | 50 mg. |
| Myristica Fragrans (Jaiphal Oil) | 1 ml. |
| Camphora (Kapur Oil) | 2 ml. |
| Cinnamomum Zeylanicum (Dalchini Oil) | 3 ml. |
| Nigella Sativa Oil (Kalonji Oil) | 4 ml. |
Frequently Asked Questions
What are the symptoms and causes of impotence in men?
Impotence can present itself in two ways. Males unable to impregnate a healthy and fertile woman even after two years of unprotected sex are considered impotent.
Other symptoms of the problem are the inability to gain optimum erection, gaining slow and weak erections, or losing stiffness before ejaculation.
The occasional occurrence of ED is not reckoned as a sign of impotence, but frequent or repeated occurrences suggest the presence of a problem.
Prevalent causes of the problem are listed below.
Heart problem, high blood sugar, high blood pressure, Cushing's syndrome, thyroid problems, insomnia, and poor metabolism
Certain medicines and long term use of sedatives and steroids
Alcoholism, drug use, tobacco use, smoking, and self-stimulation
Poor prostate functions, low libido, low energy levels, and relationship issues
Psychological causes
Nervous system disorders, lethargy, fatigue, etc
Are herbal remedies effective in treating erection problems?
Herbs have been renowned for curing disorders in males and females related to their reproductive system or physical and mental health.
Herbs possess natural properties to enhance the body's mechanism, repair damages, and recover from weaknesses.
These herbs correct disorders and malfunctions of systems and organs of the body to provide long-lasting relief naturally.
Herbal remedies do not fail; these show positive results in each case because these are healing agents that have been provided by nature and do not cause any ill-effect either.
Males suffering from ED due to aging, disease, medication, or bad habits can gain considerable relief through herbal remedies.
What is King Cobra oil?
King Cobra is herbal erection oil that is also recognized as impotence oil due to its excellent ability to enhance a male's potency, virility, and vigor.
It possesses herbs and herbal oils which eliminate weaknesses, repair injuries and nourish and energize organs of the male genital region to enhance his performance in bed and gain abilities to achieve fatherhood.
This herbal erectile dysfunction oil is also helpful for males taking any medicine that slows down their reproductive system or has any disease that reduces their ability to get aroused and perform in bed.
This oil for erection problems works for even elderly males and provides age-defying virility and vigor to make love.
What are the benefits of using King Cobra oil?
King Cobra oil has been designed to promote powerful and quick erections and improve a male's ability to make intense love.
Due to its potent herbal ingredients, this herbal erectile dysfunction oil is beneficial in many other ways. Some of the top benefits of this oil are as follows.
Improves erection size, strength, and duration
Provides the ability to gain multiple erections
Increases sensation and promotes intense arousals
Increases libido and semen volume
Prevents curvature problems
Increases ejaculatory force and complete ejaculation
How to use King Cobra oil?
You need to massage your male organ with King Cobra oil once in the morning and evening.
Take 10-15 drops of oil on the palms and gently apply over the organ for a few minutes with a light hand till oil gets absorbed in the skin.
Is King Cobra oil safe to use?
The formula for this oil has been derived after years of research and study to ensure that it does not cause even the mildest side effects.
Oil is so safe that males having sensitive skin can also use it and face no irritation or rash even after regular use.
Thousands of users of this oil have reported no side effects, which is sufficient proof of their efficacy and safety.
How does this herbal erectile dysfunction oil work?
King Cobra oil on topical application seeps into the skin.
It has herbs that possess properties to enhance blood flow in veins and capillaries of the male organ. Higher blood flow generates cells at a faster pace and repairs damaged tissues.
This oil supplements compounds that reenergize nerves and make them active by dilating and making blood vessels blockage-free.
This oil keeps nerves active and energized to enhance arousals' sensation and intensity and delay ejaculation. Regular blood flow makes tissues in the male organ stronger, healthier, and bigger.
Healthy tissues absorb more blood to grow in size and get stiff quickly to cause quicker and harder erections. Healthy tissues hold blood for a longer duration to maintain an erection and allow a male to perform in bed intensely.
Some of the herbs in this oil are anti-inflammatory. These herbs diffuse swellings in the canal, blood vessels, glands, and organs to increase semen volume, promote smooth ejaculation and urine flow.
King Cobra oil energizes muscles to increase the force of ejaculation and rebuild damaged tissues to cure penile curvature.
How long does this ED oil take to show effect?
King Cobra oil has been designed to bring positive changes within minutes of use, but to gain long-lasting results, one should use these for the required duration. Based on user reviews, four months is recommended as the proper course of treatment.
Do you ship discreetly?
Every necessary step is taken to maintain the confidentiality of your order and protect your privacy. We deliver your order in a plain pack that displays no details of your order, and it is hand-delivered right at your doorstep.
Here's What Our Customers Say About King Cobra