Herbal Enlarged Prostate Supplements
Enlarged prostate supplements are recommended to treat enlargement of the gland. Herbal supplements for prostate health are most effective because they can be taken longer without worrying about side effects and have potent properties to show good results.
Reduce Size Of Prostate Minimize Cancer Risk Slow Urine Flow Treatment🚽🌰🥵⚡
Why Do You Need Enlarged Prostate Supplements?
The enlarged or swollen prostate gland symptoms are frustrating and can initiate other health problems. Ignoring symptoms of prostate malfunction can be welcome to troubles.
Herbs have been used for ages to keep the male reproductive organs healthy; they are the most dependable and holistic treatments.
Herbal enlarged prostate supplements contain herbs in perfect combination and dosage to alleviate the problem. They help shrink the gland back to normal size to provide long-lasting relief.
The supplements' most heartening benefits are that they relieve the symptoms of benign prostatic hyperplasia (BPH), increase urine flow, and reduce burning sensation during urination.
Prostocure Capsules Key Ingredients
Herbal enlarged prostate supplements possess a range of herbs needed to treat this condition. People suffering from the problem shall use these natural prostate supplements for a prolonged duration to completely come out of the adverse effects of the problem.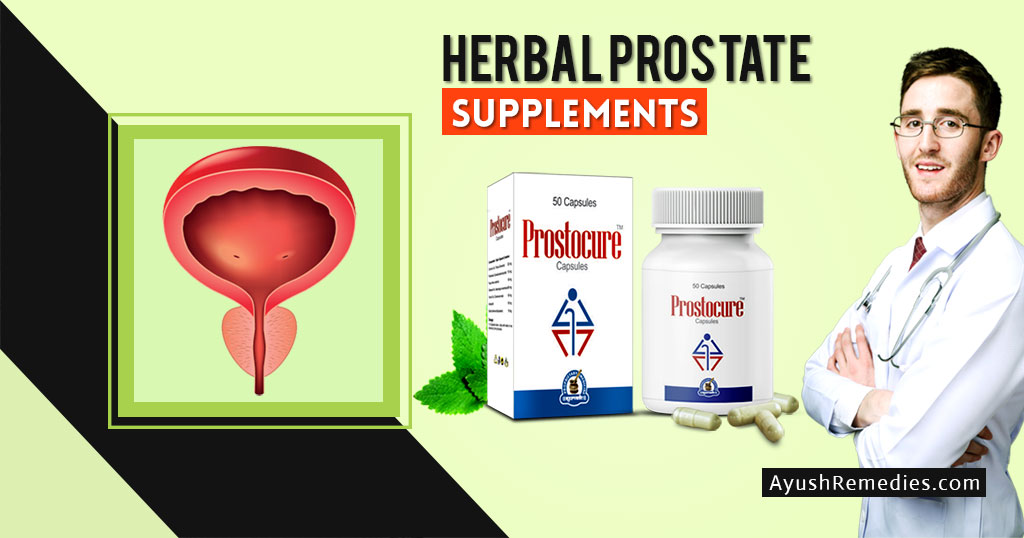 Composition
Each Capsule Contains:
| | |
| --- | --- |
| Tribulus Terrestris (Gokshura Extract) | 120 mg. |
| Caesalpinia Bonducella (Putikaranja) | 110 mg. |
| Areca Catechu (Puga) | 60 mg. |
| Asparagus Racemosus (Shatavari Extract) | 60 mg. |
| Crataeva Nurvala (Varuna Extract) | 60 mg. |
| Akik Pishti | 60 mg. |
| Amomum Subulatum (Elaichi) | 10 mg. |
Frequently Asked Questions
What is benign prostatic hyperplasia or BPH?
Benign prostatic hyperplasia is an enlargement of the prostate gland; this gland enlarges with growing age or other reasons and raises a specific set of symptoms.
Since this gland encircles the urethra, a person faces problems during urination and finds a reduction in semen volume due to enlargement. Sometimes, thick whitish discharge is also seen with or after urination.
This condition is benign because one cannot stop the gland from enlarging, it is bound to grow in size with age, and its enlargement can begin at any age, younger or later. Once it starts growing, it progresses until it is not checked.
The enlargement causes constriction of the urethra, preventing the urinary bladder from emptying each time. The left-over urine can cause bacterial growth to raise serious health issues.
Enlargement also troubles and affects the muscles around the gland and raises other frustrating symptoms. Prostate supplements take care of the possible outcomes of BPH and also slow down its enlargement.
What are the symptoms of prostate enlargement?
Male faces a considerable reduction in semen volume, a lesser pleasure during the climax, thick discharge after urination, lack of interest in lovemaking, and urinary problems.
What are the causes of an enlarged prostate?
Aging is a natural and most common cause of enlarged prostate. With growing age, supplementation decreases, and the body cannot maintain blood flow to all body parts and cannot keep blood vessels clear and free of blockages.
This lack of nourishment causes issues that enlarge the gland slowly but regularly. The pace of enlargement or its beginning depends upon one's health, diet, and lifestyle. These factors can speed up or slow down the enlargement and determine the intensity of symptoms.
Acute bacterial prostatitis is another condition that can cause enlargement of the gland due to inflammation. It is triggered by bacterial infection.
People at any age with low immunity or exposed to bacteria due to contaminated food and drink or any infection can suffer from the sudden outburst of infection.
The body's inflammatory response to curb the infection causes inflammation and enlargement of the gland. The acute bacterial prostatitis symptoms may last for a short or long period, depending upon the duration and intensity of the infection.
Usually, anti-inflammatory, diuretic, and antibacterial herbs in combination work as the best supplements for BPH occurring due to bacterial infection.
Chronic bacterial prostatitis is rare, but it is hard to treat if it occurs. It, too, is caused by bacterial infection, but the only difference is that it comes back again and again.
The symptoms are harsh and frustrating, and regular occurrences can deteriorate prostate health considerably in a short time. This problem is mainly seen in individuals who already suffer from some health condition or have a weak immune system due to a specific disorder or disease.
One needs to take support of powerful immunity-boosting and antibacterial herbs as supplements for BPH to treat chronic bacterial prostatitis.
Chronic prostatitis is also called chronic pelvic pain syndrome. The problem stays for longer, and apart from causing symptoms related to enlargement or inflammation of the gland, many other symptoms are also present.
It has far-reaching effects. Enlargement in the gland negatively affects a male's health and potency. It can lead to low libido, making a male less interested in lovemaking.
Age-related enlargement of the gland produces symptoms like urination difficulties – burning sensation, trouble starting a urine stream, thinning of urine stream, incomplete excretion of urine, and frequent urination, especially at night.
All these issues raise chances of infection in the bladder, which can even reach the kidneys. The symptoms keep growing in their intensity until not treated with herbal supplements for benign prostatic hyperplasia.
If a person catches a bladder or kidney infection, BPH can be a severe threat to health, particularly in the case of an aging individual.
Acute bacterial prostatitis brings problems related to urine, fever, and chills. The temperature rise can be sudden and high, and the person may also feel increased sensitivity to cold and urinary obstructions. Some people also see traces of blood in urine during the outburst of acute bacterial prostatitis.
Chronic bacterial prostatitis produces identical symptoms to its acute version, but the only difference is that it can surge repeatedly. OTC antibiotics can be of little and temporary help.
Chronic prostatitis causes severely frustrating symptoms, along with urinary problems. It causes regular pain in the low back, which can be dull to moderate and stay the whole time. Pain in the groin area or heaviness is another regular symptom with chronic prostatitis.
Many males suffer from pain at the tip of the penis, which also causes burning and painful ejaculation. This condition may cause low libido and reluctance to make love and causes damage to the urinary canal.
Prostocure capsules possess anti-inflammatory, diuretic, immunity enhancing, and antimicrobial herbs and collectively work as powerful supplements for benign prostatic hyperplasia occurring due to age or bacterial infection.
Sexual practices are other causes of the problem which cause enlargement of the gland at any age. Too much coition, self-stimulation, and involvement in erotic conversations and activities, which cause arousals a few times a day, can irritate and enlarge the prostate gland.
Prostocure herbal prostate supplements have been designed to handle all the causes and symptoms of the problem safely and in a short time.
Who are at risk of prostate enlargement?
Apart from aging individuals and those who follow aggressively and straining sexual practices or are involved in sitting jobs, suffering from obesity, facing hormonal fluctuations, etc., are at high risk of prostate enlargement.
The effects of Prostocure capsules are so varied and effective that these can treat and prevent the problem even in such prone individuals.
These possess herbs that maintain the flow of blood towards the pelvic region to prevent the ill effects of excessive weight and restricted blood circulation due to prolonged sitting hours and remove debilities caused by unhealthy sexual practices.
Is it possible to shrink an enlarged prostate?
The enlarged prostate can be shrunk to normal size with proper treatment to avoid problems and health issues.
If BPH is not handled correctly at the initial stage and allowed to grow, it shows aggravated symptoms. Beyond a certain limit, only surgical removal is the option left to the person.
The surgical removal of the gland is not the end of the miseries. Even after removal, the person faces different symptoms for a considerable duration that reoccurs repeatedly.
Prostocure capsules are herbal supplements that possess a broad spectrum of herbs with innate properties to address the causes of the problem and minimize the damage to health.
These herbal prostate supplements are so safe that men can also use these pills to prevent age-related enlargement. These BPH supplements work as both curative and preventive remedies.
How to use Prostocure capsules?
Prostocure capsules are easy to use. Consume one or two pills of this herbal BPH supplement with water after breakfast and dinner regularly.
Are Prostocure capsules safe to use?
Prostocure capsules are safe for men of all ages, even for prolonged use. This natural supplement can be used without prescription and do not contradict other medicine or supplement.
Special Offers
Due to its purely herbal nature, you can take Prostocure capsules for the long term to get maximum benefits. They improve prostate health, strengthen male reproductive organs, and relieve enlarged prostate symptoms.
Here's What Our Customers Say About Prostocure